Yoko Kumada Japanese Gravure Idol and Singer Our Hot Asian Babe for the Day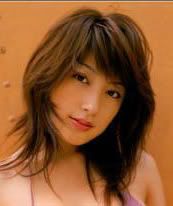 Kumada Yoko, born on May 13, 1982. a Japanese gravure idol and singer. She is originally from Gifu city, Gifu Prefecture, Japan. Her height is 164cm. Three sizes are B92 W56 H84. The size of the leg is 24.0cm. Blood type is O. Her nickname is Kumayo and Yokochan and Kumachan. Her agency is artist house PYRAMID.
Yoko originally applied to be a contestant of Miss Magazine in her third year of high school but had to drop out due to her mother's strong disapproval. Yoko went on to nursing school after her graduation, but also entered a talent agency's audition in order to pursue her dream of being part of the entertainment world. She was only able to do this because her mother was travelling abroad at the time and her flight home was delayed due to bad weather. Yoko was able to fulfill her dream of being part of the entertainment world after passing the audition.
On January 27th, 2006, the magazine Friday reported Yoko to have snuck out of Okamura Tadashi's place in the morning after being there overnight. The rumors ran wild, but Yoko and Tadashi kept to their stories that nothing had happened between them. Because of this insistence though, people only believe moreso that the two did have a relationship. Tadashi says he simply invited Yoko over for a casserole.
Name: Yoko Kumada
Chinese Name: 熊田曜子
Profession: Idol, Singer
Country: Japan
Height: 164cm
Sizes: B92, W56, H84
Blood Type: O
Shoe size: 24.0cm
Hobbies: Karaoke, do-it-yourself projects
Abilities: Unicycling, piano, bookkeeping, blind touch
Favorite food: Chocolate
Agency: Artist house PYRAMID