Bianca King of The Philippines Our Hot Asian Babe for the Day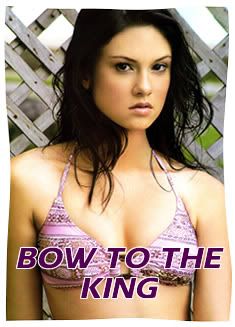 She was controversial. But this girl can weather any storm that might come her way. After all that has been said and done, Bianca King is back. With a smile and with her fighting attitude, she is ready to start anew. This young girl has matured to become a sophisticated young lady, all set to conquer the world of showbiz. It takes guts and a certain kind of glamour to have this sort of dream and Bianca is ready to do whatever she has to do to continue her path to success.
Films/Series
* Shaider (Philippine TV series)
* Super Twins
* Matakot Ka Sa Karma (2006)
* Gigil (2006)
* Atlantika (2006)
* Love to Love
* Jass Got Lucky (2006)
* My Darling Mermaid (2006)
* Wish Upon a Jar (2005)
* Oh, My Ghost! (2006)...Jolina
* Sugo
* Ako legal wife: Mano po 4?!
* Mulawin: The Movie (2005)
* Birhen ng Manaoag (2005)
* Hari ng sablay (2005)
* Mulawin (2004)
* Click (1999)
Bianca King FHM Philippines Photo Shoot